Washington DC Aerial Performers and Groups
This page lists some of the aerial performers and groups in the Washington area and provides links to their websites. If you are interested in contacting or booking a particular artist or group, please contact them directly. This listing is a work in progress and is, of course, incomplete.
Air Dance Bernasconi
Air Dance Bernasconi is a professional aerial dance company performing locally and nationally since 2000. ADB features low-flying trapeze, aerial fabric, hoops, bungee and more with modern dance. Founder and Artistic Director Jayne Bernasconi also teaches aerial dance classes in Baltimore at Gerstung InterSport.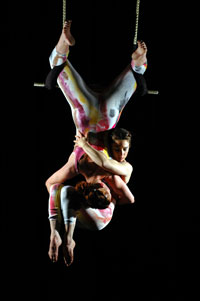 photo by Enoch Chan
Co-directed by Andrea Burkholder and Sharon Witting, Arachne Aerial Arts specializes in solo and duo aerial performance. The company has performed locally at venues such as The Kennedy Center, Corcoran Gallery of Art, Dance Place, Woolly Mammoth Theatre, and at corporate events throughout the area.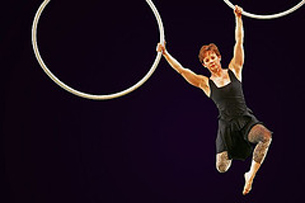 photo by Karen Jackson, courtesy Air Dance Bernasconi
Ann Behrends can be found dancing or flying all over the Washington, DC metropolitan area, where she recently choreographed lyra and fabric pieces for the opening of the Atlas Performing Arts Center. She currently performs with Air Dance Bernasconi and JazzDanz/dc.
Email: twogoodnees@gmail.com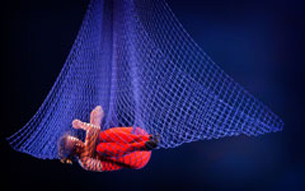 photo by Karen Jackson, courtesy Air Dance Bernasconi
Sara Deull is an 18-year-old aerialist who performs high-energy solo and partner aerial acrobatics, circus and dance on a variety of apparatus. She has been a part of Air Dance Bernasconi for the past five years, teaches Flying Trapeze with Peter Gold's Trapeze Experience, and tours with the Zip Zap Circus of South Africa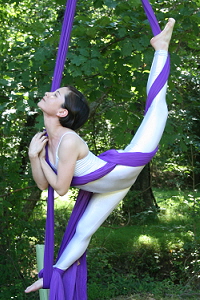 Moira Lee has studied aerial dance and circus arts with former members of Frequent Flyers and Cirque du Soleil. She has performed with Air Dance Bernasconi, Aerial Angels at the Maryland Renaissance Festival, the Atlas Performing Arts Center Gala and at DC's Showbar: Palace of Wonders.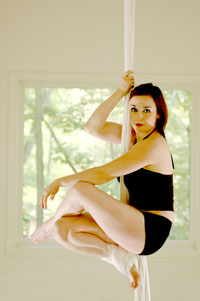 Megan Morse Jans is an emerging choreographer and performer in the DC Metro Area. Most recently seen with BosmaDance, Air Dance Bernasconi, Tommy Parlon Dance Projects and Ground Zero Dance company, her latest endeavor is DragonFly Dance Experiment which she co-directs with Danica Kalemdaroglu.
www.dragonflydanceexperiment.org
Jessica Mislevy is an alumnus of the University of Marylandís exhibitional gymnastics team, the Gymkana Troupe and has studied and performed with Air Dance Bernasconi, the Trapeze School of New York in Baltimore, and several Club Med circus teams. Jessica also specializes in sports-acro events such as contortion, partner balancing, and trampoline.
www.rmislevy.org/Slideshows/JessMislevyAerial.html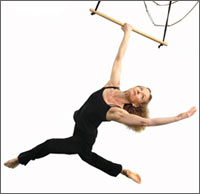 Updraft: A Conspiracy of Movement, a performance company based in the Upper Shenandoah Valley, features work which incorporates aerial and modern dance, as well as Yoga and other spiritual and health practices. A collaborative effort, Updraft features low-flying aerial apparatus such as trapeze, bungee, and harness work.
www.globalhomestead.org/updraft/index.htm