AirBorne! Kindred Spirits and Resources
This listing is a work in progress and is, of course, incomplete. Please let us know if there is something we should fix or someone we should add.
Elsie Smith and Serenity Smith Forchion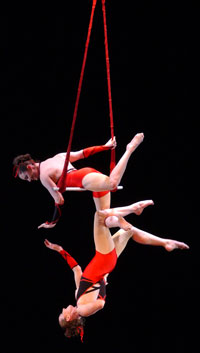 photo by Karen Jackson, courtesy of Air Dance Bernasconi
Editorial Note: So many of us have trained and collaborated with Elsie Smith, Serenity Smith Forchion and Bill Forchion over the years that they rate their own category.
They are more than kindred spirits -- they are real leaders and inspirations, both personally and professionally.
Gemini Trapeze (www.trapezetwins.com) and Nimble Arts Trapeze and Circus School (www.nimblearts.org)
Schools and Training Resources
(a few among many)
Air Dance Bernasconi (Baltimore, MD), www.airdancebern.com
Actor's Gym - (Chicago, Illinois), www.actorsgymnasium.com
American Youth Circus Organization (AYCO), www.americanyouthcircus.org
Circus of the Kids (Traveling circus school bringing circus education to schools), www.circusofthekids.com
Canopy Studio (Athens, Georgia), www.canopystudio.com
Circus Smirkus (Greensboro, Vermont), www.circussmirkus.org
Frequent Flyers Aerial Dance Company (Boulder, Colorado), www.frequentflyers.org
Hollywood Aerial Arts (Inglewood, CA), www.hollywoodaerialarts.com
Nimble Arts, LLC Trapeze and Circus School (Brattleboro, Vermont), www.nimblearts.org
Richie Gaona Flying Trapeze School (Woodland Hills, California), www.flytrapeze.com
Simply Circus (Newton, Massachusetts), www.simplycircus.com
Streb and España Streb Trapeze Academy (Brooklyn, New York), www.strebusa.org
The San Francisco Circus Center (San Francisco, California), www.sfcircus.org
Tito Gaona's Flying Trapeze School and Flying Fantasy Circus (Boston, Massachusetts and Venice, Florida), www.titogaona.com
Trapeze Experience (Workshops around the USA combine flying trapeze training with spiritual exploration), www.trapeze-experience.com
Trapeze High (Escondido, CA), www.trapezehigh.com
Trapeze School of New York (Baltimore, Boston and New York), www.trapezeschool.com
Zip Zap Circus School (Cape Town, South Africa), www.zip-zap.co.za
Trapeze Yahoo Group: http://groups.yahoo.com/group/trapeze/
Aerial Rigging Yahoo Group: http://groups.yahoo.com/group/aerialriggers/
Flying Trapeze Resource Page: www.damnhot.com/trapeze/
The Aerial Circus Training and Safety Manual by Carrie Heller
www.circusartsinstitute.com/content/default.aspx?pageID=1127
Secrets of the Circus Video Series by Christine Van Loo
Aerial Training Manuals by Yvette Challande (in French)
www.ecoledecirque-ge.ch/Index001.html
Online Training Handbooks of The European Federation of Professional Circus Schools (FEDEC)
www.fedec.net/fr/fedecuk2.html
Rigging Consultation, Training and Production Services
(Safety First, Please!)
Jonathan Deull (Theatrical, Circus and Aerial Dance Production and Rigging; Aerial Performer Rigging Workshops and Training)
1777 Lanier Place, NW
Washington, DC 20009
Phone: (202) 232-4138
Cel: (202) 256-9207
Email: jdeull@clarktransfer.com
Fisher Theatrical (Theatrical Rigging, Flying Effects and Production Services)
7476 New Ridge Road, Suite C
Hanover, MD 21076
Phone: (800) 599-2180
Fax: (410) 487-0090
Contact: Sam Fisher
Email: Sam@FisherTheatrical.com
Foy Inventerprises (Theatrical Flying Effects)
Phone: (702) 454-3500
Fax: (702) 454-7369
3275 East Patrick Lane
Las Vegas, NV 89120
Email: Foymail@flybyfoy.com
Hall Associates Flying Effects (Theatrical Flying Effects)
3230 Sycamore Road Suite 143
Dekalb, IL 60115
Phone and Fax: 1-888-FLY-HALL
1-888-359-4255
Contacts: Tracy & Gabe Nunnally
Email: info@flyingfx.com
AE Mitchell & Co (Theatrical and Event Rigging and Draperies)
4316 Wheeler Avenue
Alexandria, VA 22304
Phone: (703) 823-3303
Fax: (703) 823-3374
Contact: Art Mitchell
Email: aemitchell@aemitchell.com
Eric Rouse (Theatrical and Circus Flying Effects)
Flying Effects Specialist, Former Foy and Cirque du Soleil Rigger
Professor of Technical Theatre and Technical Director
Penn State University
State College, PA
Phone: 814-441-4784
Email: erictd@gmail.com
Sapsis Rigging, Inc (Theatrical and Event Rigging)
233 N Lansdowne Ave
Lansdowne, PA 19050
Phone: (800) 727-7471
Phone: (215) 228-0888
Fax: (215) 228-1786
Contact: Bill Sapsis
ZFX inc. Flying Illusions (Theatrical Flying Effects)
Offices in Southern California, Las Vegas, Louisville, KY, Europe
Contact: Robert Dean
Email: swashbuckl@aol.com
Sales Office (714) 777 1010
Which Way is Up? (Circus and Stunt Rigging and Equipment)
Warren Bacon
318 Seminola Boulevard
Casselberry, Florida 32707
Phone: 407-580-4826
Email: rig2@aol.com
Amspec, Inc. (Flying Harnesses)
5917 Noble Avenue
Van Nuys, CA 91411
Phone 818-782-6165
Fax 818-782-7134
Contact:
Email:
Barry Cordage (Circus Equipment, Rope and Hardware)
6110 Boulevard des Grandes Prairies
Montreal H1P 1A2 Canada
Phone: 514 328-3888
Fax: 514 328-1963
Contact: Josée Plourde, Manager Barry Circus & Entertainment Division
Email: jplourde@barry.co
Corderie Clement (Circus Equipment, Rope and Hardware)
45 av Henri Barbusse
92220 Bagneux, France
Office hours (Paris) 8-12, 1-5
Telephone: 01 45 36 12 34
Fax: 01 46 65 07 79
Contact: Herve Grizard
Custom Built Equipment (Circus Equipment and Hardware)
467 W Krepps Rd
Xenia, Ohio USA 45385-9350
Phone: (937) 372-7581
Contacts: Jake, Mary, Carl Conover
Email: cbei@cbe-circus.com
Gerstung Intersport (Mats and Gymnastic Equipment)
1400 Coppermine Terrace
Baltimore, MD 21209
Local: 410-337-7781
Toll Free: 1-800-922-3575
Fax: 410-337-0471
Email: sg@gerstung.com
Jackie Tan (Custom Equipment, Lyra, Trapeze, Fabric, Nets, Flying Belts, Flying Trapeze Rigs)
Bobby's Big Top, Inc. (Flying Trapeze Rigs, Circus Equipment)
9380 Maple Street
Elberta, AL 36530
Tel: 251.961.7885
Fax: 251.961.7012
Contact: Bobby Bates
Email: trapeze@gulftel.com
Matt Sweeney Special Effects (Stunt and Special Effect Rigging Equipment, Sheaves)
Matt Sweeney Special Effects Inc.
Van Nuys, California
Phone: (818) 902-9354
Fax: (818) 902-1513
www.sweeney-special-effects.com
Nimble Arts (Fabric and Trapeze)
76 Cotton Mill Hill #300
Brattleboro, VT 05301
Phone: (802) 254-9780
Contact: Elsie Smith, Serenity Smith Forchion
Email: trapeze@sover.net
Norman Supply (Ropes of all kinds)
18707 Napa Street
Northridge, CA 91324
Phone: (818) 349-3120
Contact: Ken or Stephanie
Email: oldencars@yahoo.com

Patrollers Supply (Mountaineering and Rescue Equipment)
1777 East 39th Ave. Suite 200
Denver, Colorado 80205
Phone: (303) 725-6313
Fax: (303) 295-9922
Contact: Steve
Email: sales@patrollersupply.com
Sapsis Rigging, Inc. (A good, knowledgeable source for all kinds of hardware and cordage)
233 N Lansdowne Ave
Lansdowne, PA 19050
Phone: (800) 727-7471
Phone: (215) 228-0888
Fax: (215) 228-1786
Contact: Bill Sapsis
Email: bill@sapsis-rigging.com
Ver Sales, Inc. (A good, knowledgeable source for all kinds of hardware and cordage)
2509 North Naomi St.
Burbank, Ca. 91504
Phone (800) 229-0518 • (818) 567-3000
Fax: (818) 567-3018
Email: sales@versales.com
Which Way is Up? (Custom Equipment Design and Fabrication)
Warren Bacon
318 Seminola Boulevard
Casselberry, Florida 32707
Phone: 407-580-4826
Email: rig2@aol.com
ZFX inc. Flying Illusions (Theatrical Flying Effects and Equipment)
Offices in Southern California, Las Vegas, Louisville, KY, Europe
Contact: Robert Dean
Email: swashbuckl@aol.com
Phone – Sales Office (714) 777-1010